Players are becoming ever more aware of the problems caused by excessive tension and physical strain when holding and playing the trombone especially in situations such as marching or simply performing for extended periods without a break. It can affect a wide range of players, from young children to those with conditions such as arthritis. The Michael Rath hand support system is a very simple yet very effective way of reducing, and in many cases eliminating, physical tension in the hand, arm and shoulder.
Musically, the benefits of being able to perform free from unnecessary tension can be considerable and often this can also lead to a reduction of excessive pressure on the embouchure.
Attaching to the main bell stay of the instrument, the pad of the Michael Rath hand support fits snugly across the back of the left hand, providing all the necessary support needed to eliminate tension from the fingers. When properly adjusted a player can even remove their fingers from the slide stay completely leaving the hand support to take the full weight of the instrument.
The Michael Rath hand support has been designed and successfully tested with a number of different makes and models of trombone, in addition to all Rath instruments, and, as well as its popular use with bass and contra bass trombones, the hand support has proven to be equally as successful with Bb/F tenor and even straight tenor trombones.
The Michael Rath hand support comes as a very simple kit which is easy to fit and adjust though care should be taken to not over tighten the screws as this may damage the bell stay. For Michael Rath hand support assembly see our fitting instructions.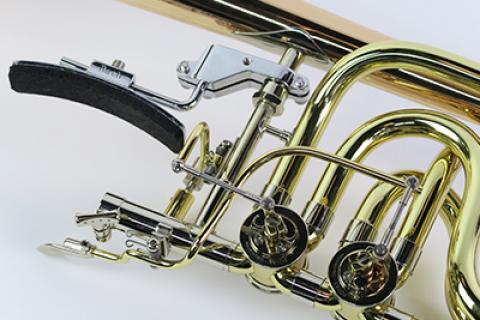 How to order
If you're in the UK, please contact us to order a hand support, or alteratively if you're outside the UK, please contact your nearest Rath dealer .